Taunton Tigers Mens 2nd Team 2009/10
England Basketball National League Division 4
---
Following the 2009/10 season the Tigers Mens 1st team withdrew from Division One, leaving a gap in the club for a senior Mens team. As a result, the Tigers Mens 2nd team from 2009/10 became the 1st and only senior mens team in the 2010/11 season. The information on this page is therefore from a previous season and currently the Taunton Tigers do not operate a 2nd mens team in National League.
The 2009/10 season was the first that the club ran a Mens 2nd team in National League and it turned out to be a successful and worth while endeavour. The team had a total record of 9 wins and 8 losses and a league record of 9 wins and 7 losses. They finished in 4th place in the league but failed to make the Play–offs with only the top 2 advancing. A good first season for a young developing side and head Coach Gary Carters first foray into Mens National League.
The full list of the teams results from this season can be seen below in the Schedule/Results table which includes all match reports and game statistics. View the team Roster, including player photos and the final League Table which is shown at the bottom of the page.
Team Photo
---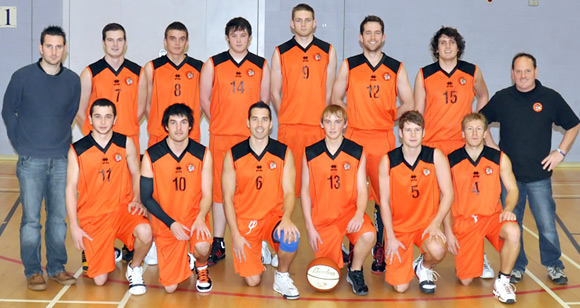 Roster
---
Schedule/Results
---
| Day | Date | Time | Opposition | Competition | Venue | Result | Report |
| --- | --- | --- | --- | --- | --- | --- | --- |
| Saturday | 19/09/09 | 13:30 | Bristol Academy Flyers II | Shield | Home | 68 – 75 (L) | |
| Saturday | 10/10/09 | 16:00 | Plymouth marjon II | League | Away | 71 – 63 (W) | |
| Saturday | 17/10/09 | 18:15 | Bath and Trowbridge Titans | League | Away | 82 – 94 (L) | |
| Saturday | 24/10/09 | 18:00 | Bristol Storm | League | Home | 74 – 54 (W) | Report |
| Saturday | 07/11/09 | 16:00 | Cornwall Cougars | League | Away | 75 – 49 (W) | Report |
| Saturday | 21/11/09 | 17:30 | Chichester Thunder | League | Away | 79 – 83 (L) | Report |
| Saturday | 28/11/09 | 13:30 | Team Solent | League | Home | 66 – 71 (L) | Report |
| Saturday | 12/12/09 | 19:00 | Bognor Pirates | League | Away | 45 – 79 (L) | |
| Sunday | 13/12/09 | 14:00 | Guernsey | League | Away | 67 – 48 (W) | |
| Saturday | 16/01/10 | 13:30 | Plymouth marjon II | League | Home | 80 – 51 (W) | Report |
| Saturday | 23/01/10 | 13:30 | Bath and Trowbridge Titans | League | Home | 85 – 83 (W) | |
| Sunday | 31/01/10 | 15:00 | Bristol Storm | League | Away | 62 – 52 (W) | Report |
| Saturday | 06/02/10 | 15:45 | Cornwall Cougars | League | Home | 74 – 51 (W) | Report |
| Saturday | 20/02/10 | 19:15 | Chichester Thunder | League | Home | 81 – 82 (L) | Report |
| Saturday | 27/02/10 | 18:00 | Team Solent | League | Away | 71 – 94 (L) | |
| Saturday | 06/03/10 | 13:30 | Guernsey | League | Home | 77 – 66 (W) | Report |
| Saturday | 13/03/10 | 15:45 | Bognor Pirates | League | Home | 71 – 81 (L) | |
League Table
---
| Team | Wins | Losses | % | For | Against | Difference | Points |
| --- | --- | --- | --- | --- | --- | --- | --- |
| Team Solent | 14 | 2 | .875 | 1199 | 981 | 218 | 28 |
| Bognor Pirates | 14 | 2 | .875 | 1163 | 949 | 214 | 28 |
| Chichester Thunder | 13 | 3 | .813 | 1244 | 1137 | 107 | 26 |
| Taunton Tigers II | 9 | 7 | .563 | 1164 | 1097 | 67 | 18 |
| Bath and Trowbridge Titans | 7 | 9 | .438 | 1250 | 1262 | −12 | 14 |
| Guernsey | 5 | 11 | .313 | 1037 | 1084 | −47 | 10 |
| Plymouth Marjon II | 4 | 112 | .250 | 1044 | 1230 | −186 | 8 |
| Bristol Storm | 3 | 13 | .188 | 946 | 1095 | −149 | 9 |
| Cornwall Cougars | 3 | 13 | .188 | 810 | 1022 | −212 | 6 |