Taunton Tigers Mens Team 2011/12
England Basketball National League Division 3 South
---
The Taunton Tigers Men's team play in the England Basketball Division 3 South League. They were promoted following the 2010/11 season which saw them win their division. This year's team is coached by ex-Tigers player Mathew Nolan and also sees Richard Anderson returning to the squad to play and perform Assistant coach duties. The team is managed by Paul Carter with Colin Bishop providing logistical support.
The team play their home games at Wellsprings Leisure Centre and on occasion Somerset College. Entry for Men's team home games is £3 for Adults, £1.50 for Children and Under 5's go free.
You can stay in touch with how the team is doing — as well as stay up to date with all Taunton Tigers news — by Following us on Twitter and liking us on Facebook. You can also view team pages from previous seasons by using the navigation at the bottom ↓ of the page.
Team Photo
---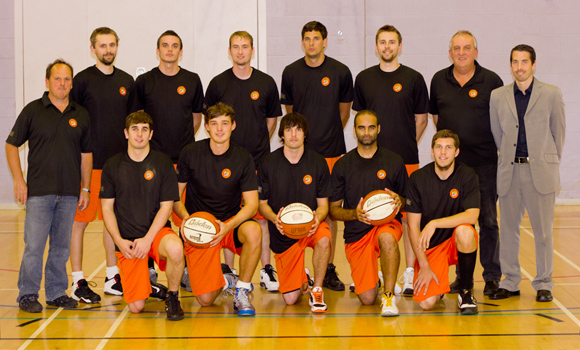 Roster
---
Name
Height
Position
Date of Birth
Sponsor
Head Coach: Matt Nolan | Assistant: Richard Anderson
Team Manager: Paul Carter | Logistics: Colin Bishop
Adam Rickwood
6′4″
Forward
30/06/89
A.S. Greenwood Construction
Ben Williams
6′3″
Forward
13/03/86
Richard Williams
Dan Howe
5′10″
Guard
21/01/86
Drum Sense
George Scarborough
5′1″
Guard
21/04/82
Harry Turner
6′5″
Forward
07/10/93
P.J. Carter Plumbing & Heating
Joe Randall
6′2″
Guard
06/03/91
Joseph Mills
5′11″
Guard
06/07/83
Kevin Anderson
6′4″
Forward
17/06/82
French Connection Restaurant
Mike Sebire
6′2″
Forward
07/03/86
Darleys Cakehouse
Richard Anderson
6′4″
Forward
17/06/82
K & R Anderson
Tad Gray
6′5″
Forward
14/10/86
Schedule/Results
---
| Day | Date | Time | Opposition | Competition | Venue | Result | Report |
| --- | --- | --- | --- | --- | --- | --- | --- |
| Sunday | 25/09/11 | 15:00 | UWIC Archers | National League | Home | 94 – 50 (W) | Stats |
| Sunday | 02/10/11 | 16:30 | Plymouth Marjon | National League | Home | 72 – 76 (L) | Stats |
| Saturday | 08/10/11 | 18:00 | Solent City Smugglers | National League | Away | 0 – 20 (L) | |
| Sunday | 23/10/11 | 15:00 | Reading University Rockets | National Shield | Home | 78 – 53 (W) | Stats |
| Sunday | 30/10/11 | 15:00 | Oxford Brookes University | National League | Home | 72 – 48 (W) | Report Stats |
| Sunday | 06/11/11 | 17:00 | Wellingborough Pheonix | National League | Away | 74 – 85 (L) | Report |
| Saturday | 12/11/11 | 19:00 | Bognor Pirates | National League | Away | 111 – 61 (W) | |
| Saturday | 13/11/11 | 15:00 | Solent City Smugglers | National Shield | Home | 99 – 87 (W) | Report Stats |
| Sunday | 20/11/11 | 15:00 | London Greenhouse Pioneers | National League | Home | 68 – 71 (L) | Report Stats |
| Sunday | 27/11/11 | 15:00 | Newham (NASSA) Neptunes | National Shield | Home | 59 – 76 (L) | Report Stats |
| Sunday | 04/12/11 | 15:00 | Canary Wharf Baltic Staff | National League | Home | 80 – 76 (W) | Report Stats |
| Saturday | 10/12/11 | 14:30 | Hackney White Heat | National League | Away | 84 – 62 (W) | Report |
| Sunday | 18/12/11 | 15:00 | Plymouth Marjon | National League | Away | 70 – 78 (L) | |
| Saturday | 07/01/12 | 17:30 | Newham (NASSA) Neptunes | National League | Home | 61 – 69 (L) | Report Stats |
| Sunday | 08/01/12 | 15:00 | Solent City Smugglers | National League | Home | 67 – 54 (W) | Report Stats |
| Saturday | 14/01/12 | 13:00 | UWIC Archers | National League | Away | 102 – 78 (W) | Report |
| Saturday | 28/01/12 | 17:45 | Oxford Brookes University | National League | Away | 80 – 69 (W) | Report |
| Sunday | 12/02/12 | 15:00 | Bognor Pirates | National League | Home | 107 – 72 (W) | Stats |
| Sunday | 19/02/12 | 14:00 | London Greenhouse Pioneers | National League | Away | 42 – 71 (L) | Report |
| Sunday | 26/02/12 | 16:00 | Newham (NASSA) Neptunes | National League | Away | 58 – 90 (L) | Report |
| Saturday | 03/03/12 | 16:10 | Canary Wharf Baltic Staff | National League | Away | 68 – 100 (L) | Report |
| Saturday | 10/03/12 | 18:00 | Wellingborough Phoenix | National League | Home | 75 – 88 (L) | Stats |
| Sunday | 18/03/11 | 15:00 | Hackney White Heat | National League | Home | 62 – 68 (L) | Stats |