Taunton Tigers Slapheads Team 2010/11
Somerset League
---
The Taunton Tigers Slaphead's team finished the 2010/11 season with a total record of 13 wins and 8 losses and a league record of 9 wins and 7 losses — placing them 4th in the league. They reached the final of the Somerset Cup competition after defeating Minehead Vikings in the Semi-finals 72 – 50. In the final, with a full squad the team won the Somerset Cup, beating eventual Play-off champions Bridgwater Bucs, 66 to 46.
As is usually the case, the team suffered from not training and the lack of availability of players in key games but with a full squad proved a match for any team in the league. Player MVP and Tigers Club person of the year, Matt Nolan proved the backbone of the team scoring over 400 league points and led by example at the defensive end.
Off the court the teams social activity raised over £600 at their worm charming event in Stoke St Mary. Special thanks go to coach Rich Frost and table officials Clare Coles and Ethan Pattemore for their help throughout the season and to Sponsor Mike Merrick the landlord at the Half Moon Pub in Stoke St. Mary for his gracious support of the team.
Team Photo
---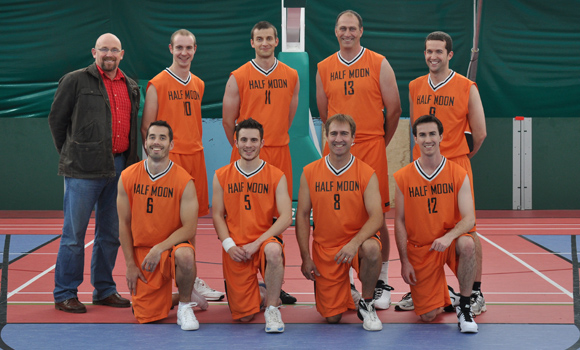 Roster
---
Schedule/Results
---
| Day | Date | Time | Opposition | Competition | Venue | Result | Report |
| --- | --- | --- | --- | --- | --- | --- | --- |
| Wednesday | 09/09/10 | 19:45 | Minehead Vikings | League | Home | 53 – 63 (L) | |
| Friday | 01/10/10 | 20:15 | Taunton Tornados | League | Away | 94 – 68 (W) | |
| Wednesday | 06/10/10 | 19:45 | Crewkerne Thunder | League | Home | 96 – 42 (W) | |
| Wednesday | 20/10/10 | 20:15 | Yeovil Jets | League | Away | 82 – 75 (W) | Report |
| Wednesday | 03/11/10 | 19:45 | Wells Warriors | League | Home | 86 – 48 (W) | |
| Wednesday | 10/11/10 | 19:45 | BC Somerset | League | Home | 71 – 64 (W) | Report |
| Tuesday | 16/11/10 | 19:30 | Bridgwater Bucs | League | Away | 56 – 65 (L) | |
| Wednesday | 01/12/10 | 19:45 | Milfield Knights | League | Home | 61 – 47 (W) | |
| Wednesday | 15/12/10 | 19:45 | Yeovil Jets | Cup | Home | 62 – 53 (W) | |
| Tuesday | 11/01/11 | 20:15 | Minehead Vikings | League | Away | 79 – 46 (L) | |
| Wednesday | 19/01/11 | 19:45 | Taunton Tornados | League | Home | 84 – 47 (W) | |
| Thursday | 27/01/11 | 19:30 | Crewkerne Thunder | League | Away | 59 – 68 (L) | |
| Tuesday | 03/02/11 | 20:15 | Minehead Vikings | Cup | Home | 72 – 50 (W) | |
| Tuesday | 06/02/11 | 20:15 | Bridgwater Bucs | Cup Final | Away | 66 – 46 (W) | |
| Wednesday | 23/02/11 | 19:45 | Yeovil Jets | League | Home | 68 – 74 (L) | |
| Friday | 04/03/11 | 20:15 | BC Somerset | League | Away | 82 – 74 (W) | |
| Wednesday | 09/03/11 | 19:45 | Bridgwater Bucs | League | Home | 49 – 60 (L) | |
| Tuesday | 22/03/11 | 19:00 | Millfield Knights | League | Away | 76 – 78 (L) | |
| Tuesday | 23/03/11 | 20:15 | Wells Warriors | League | Away | 65 – 58 (W) | |
| Tuesday | 31/03/11 | 20:15 | BC Somerset | Play-offs | Home | 80 – 70 (W) | |
| Tuesday | 05/04/11 | 20:45 | Minehead Vikings | Play-offs | Away | 50 — 67 (L) | |
League Table
---
| Team | Wins | Losses | Points |
| --- | --- | --- | --- |
| Minehead Vikings | 15 | 1 | 46 |
| Bridgwater Bucs | 13 | 3 | 42 |
| Yeovil Jets | 12 | 4 | 40 |
| Taunton Tigers Slapheads | 9 | 7 | 34 |
| BC Somerset | 8 | 8 | 32 |
| Taunton Tornados | 5 | 11 | 26 |
| Millfield | 4 | 12 | 24 |
| Crewkerne Thunder | 4 | 12 | 24 |
| Wells Warriors | 3 | 13 | 22 |