Match Report: Taunton Tigers Mens Team — 26 February 2011
Taunton Tigers vs Team Chichester Thunder
---
Tigers snatched the South West Conference title with a thrilling victory in a winner-takes-all encounter at Chichester last Saturday.
The whole regular season rested on the outcome of the game. The winner would secure first place in the Division and, with it, a home tie in the first round of the promotion play-offs. The losers would have to settle for the runners-up spot and an away trip in the play-offs.
Taunton had put themselves on the verge of success with a superb run of 9 successive victories, but as time ran down in this match it looked as though they might fall at the last hurdle.
As was to be expected of such an important match, there was very little between the two sides throughout. Tigers held a 2 point lead at the end of the first quarter, Chichester had nudged ahead 43 – 41 at the half-way point and, going into the final quarter, the match was tied at 64 all.
Thunder made the visitors fight for every point, fouling rather than giving up easy looks at the basket inside. As a result, Taunton went to the free-throw line 33 times and the fact that they were successful with 21 of those 1 point efforts was a crucial factor in the final result.
With just 30 seconds to go, Tigers trailed by 2 points but they held their nerve superbly, took their chances and seized a nail-biting win. Adam Rickwood dominated Tigers' scoring with 30 points and Harry Turner weighed in with a season high 17.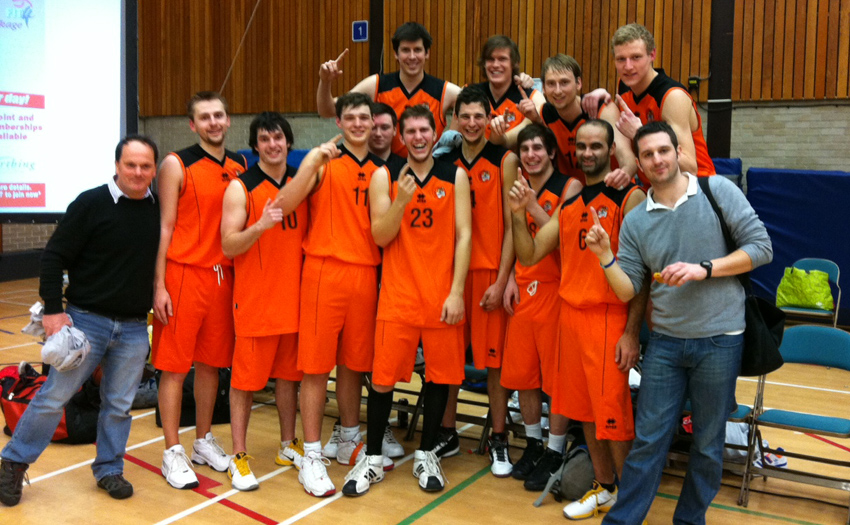 Coach Gary Carter was understandably delighted with his team's achievement, but knows there's still unfinished business.
"That was a fantastic team effort. Although we were down for the majority of the match, I was really impressed with the way we were able to grind our way back into it. And we showed great nerve to knock down crucial free-throws in the second half. Even though we'll enjoy the win and are conference champions, our aim has always been to win the entire division and we will wait and see who we will face at home."
Tigers will have a few weeks to prepare for the play-offs. The match will take place on the weekend of 26th March, and their opponents will be whoever finishes runner-up in the strong South East Conference.
Final Score: Taunton Tigers 80 – 77 Chichester Thunder
Leading Scorers: Rickwood 30, Turner 17