Taunton Tigers Under 14 Boys Team 2010/11
England Basketball National League South West
---
The Tigers U14 team was formed in 2009 and is now in it's second season in The National League South West. For the second year running Matt Nolan continues as Head Coach, and has been assisted at various times by Gary Carter, James Watts and Adrian Webb. Allan Gormley has been Team Manager since the formation of the team.
The team enjoyed considerable success in 2009-2010, establishing itself in the top eight in England. The 2010-2009 team is much less experienced and finding it difficult to establish a consistent winning pattern. The signs of progress are there however, and on their day the team can challenge the best in the South West. It is an indication of progress that twelve of the squad attend the Area Performance Centre and four have South West England representative honours, including two playing in the prestigious Inter-Regional Tournament. The future of the club looks to be in good hands with the current crop of very promising young players.
You can view team pages from previous seasons by using the navigation at the bottom ↓ of the page.
Team Photo
---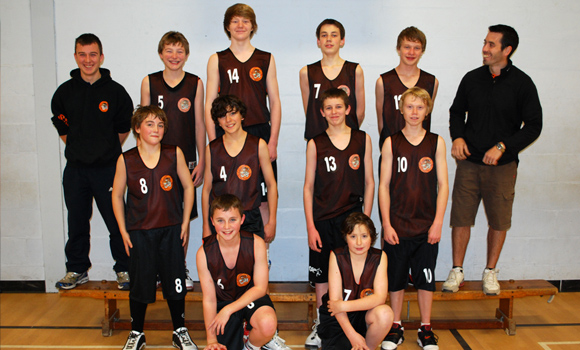 Roster
---
Schedule/Results
---
| Day | Date | Time | Opposition | Competition | Venue | Result | Report |
| --- | --- | --- | --- | --- | --- | --- | --- |
| Sunday | 24/10/10 | 12:30 | Dorset Storm | League | Home | 38 – 45 (L) | |
| Sunday | 24/10/10 | 15:00 | Stroud Sharks | League | Home | 33 – 48 (L) | |
| Sunday | 07/11/10 | 12:00 | Cornwall Cougars | League | Away | 73 – 23 (W) | |
| Sunday | 07/11/10 | 14:30 | Gloster Jets | League | Away | 43 – 47 (L) | |
| Sunday | 21/11/10 | 13:15 | Swindon Sonics | League | Away | 31 – 36 (L) | Report |
| Sunday | 21/11/10 | 14:30 | Plymouth Marjon | League | Away | 48 – 12 (W) | Report |
| Sunday | 05/12/10 | 12:15 | Torbay Tigers | League | Away | 32 – 38 (L) | |
| Sunday | 05/12/10 | 13:30 | Stroud Sharks | League | Away | 38 – 55 (L) | |
| Sunday | 12/12/10 | 12:30 | Bristol Storm | League | Home | 78 – 45 (W) | |
| Sunday | 12/12/10 | 15:00 | Plymouth Marjon | League | Home | 20 – 0 (W) | |
| Sunday | 09/01/11 | 13:15 | Bristol Academy Flyers | League | Away | 30 – 35 (L) | |
| Sunday | 09/01/11 | 14:30 | Cornwall Cougars | League | Away | 41 – 18 (W) | |
| Sunday | 06/02/10 | 12:30 | Swindon Sonics | League | Home | 36 – 53 (L) | |
| Sunday | 06/02/10 | 15:00 | Gloster Jets | League | Home | 42 – 35 (W) | |
| Sunday | 13/02/10 | 13:30 | Bristol Storm | League | Away | 55 – 24 (W) | |
| Sunday | 13/02/10 | 14:45 | Torbay Tigers | League | Away | 33 – 33 (L) | |
| Saturday | 12/03/10 | 13:30 | Dorset Storm | League | Away | 48 – 39 (W) | |
| Saturday | 12/03/10 | 13:45 | Bristol Academy Flyers | League | Away | 30 – 43 (L) | |
League Table
---
| Team | Wins | Losses | % | For | Against | Difference | Points |
| --- | --- | --- | --- | --- | --- | --- | --- |
| Torbay Tigers | 15 | 3 | .833 | 758 | 517 | 241 | 48 |
| Swindon Sonics | 15 | 3 | .833 | 966 | 534 | 432 | 48 |
| Bristol Academy Flyers | 12 | 6 | .667 | 734 | 525 | 209 | 42 |
| Dorset Storm | 11 | 7 | .611 | 799 | 650 | 149 | 40 |
| Stroud Sharks | 10 | 8 | .556 | 733 | 707 | 26 | 38 |
| Team Gloster Jets | 10 | 8 | .566 | 758 | 777 | -19 | 38 |
| Taunton Tigers | 8 | 10 | .44 | 749 | 634 | 115 | 34 |
| Plymouth Marjon | 5 | 13 | .278 | 484 | 821 | -337 | 26 |
| Bristol Storm | 4 | 14 | .222 | 487 | 740 | -253 | 23 |
| Cornwall Cougars | 0 | 18 | .000 | 363 | 926 | -563 | 16 |