Taunton Tigers U18 Mens Team 2010/11
England Basketball National League South West Conference
---
The Tigers Under 18 team were relegated to the South West Conference at the end of the 2009/10 season, but looked to bounce straight back into Premier South competition. In 2010/11 the team boasted a strong line-up including four returning seniors and six first-years, all coming out of the U16 squad along with two new recruits. Cameron Seeley returned for his 6th year as head coach and was joined by Mark Crncich as assistant coach.
The U18s began the year brightly by reaching the semi-finals of the Solent U18 Invitational Tournament in early September. The team beat Premier league sides Reading Rockets and Solent Kestrels before losing in the semis to eventual tournament winners Manchester Magic.
The team finshed the 2010/11 season with a total record of 15 wins and 3 losses finishing 1st in their conference with a league record of 11 wins and just 1 loss. The team reached the 2nd round of the National Cup losing to Bristol Academy Flyers and progressed to the quarter finals of the Play-offs beating Mole Valley Pheonix and Westminster Warriors before losing away to Manchester Magic.
Details of fixtures and results can be found below in the Schedule/Results table and the final League Table is below that. View the team photo and Roster below. Previous seasons teams can be viewed by using the navigation at the bottom of the page.
Team Photo
---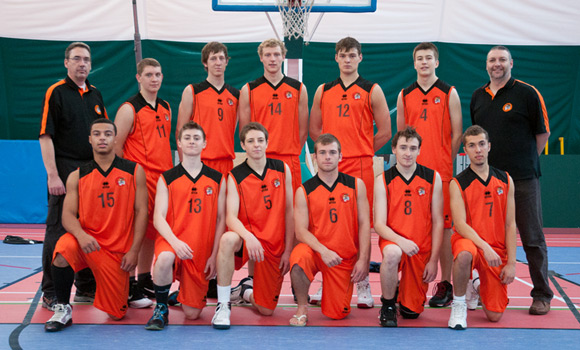 Roster
---
Schedule/Results
---
| Day | Date | Time | Opposition | Competition | Venue | Result | Report |
| --- | --- | --- | --- | --- | --- | --- | --- |
| Saturday | 23/10/10 | 13:15 | UWIC Archers | National Cup | Home | 70 – 55 (W) | |
| Saturday | 31/10/10 | 13:00 | ABC Gwent | League | Away | 89 – 45 (W) | Report |
| Saturday | 06/11/10 | 13:15 | Plymouth Marjon | League | Home | 76 – 59 (W) | Report |
| Saturday | 13/11/10 | 15:30 | Dorset Storm | League | Away | 75 – 59 (W) | |
| Sunday | 14/11/10 | 13:15 | Bristol Academy Flyers | National Cup | Home | 71 – 85 (L) | |
| Sunday | 21/11/10 | 13:45 | Gloucester Blazers | League | Home | 105 – 29 (W) | |
| Saturday | 04/12/10 | 13:15 | UWIC Archers | League | Home | 67 – 47 (W) | |
| Saturday | 11/12/10 | 13:30 | Cornwall Cougars | League | Away | 63 – 49 (W) | |
| Saturday | 15/01/11 | 14:15 | Gloucester Blazers | League | Away | 20 – 0 (W) | |
| Saturday | 29/01/11 | 13:15 | ABC Gwent | League | Home | 78 – 62 (W) | |
| Saturday | 05/02/11 | 16:00 | Plymouth Marjon | League | Away | 0 – 20 (L) | |
| Saturday | 12/02/11 | 13:15 | Dorset Storm | League | Home | 93 – 26 (W) | |
| Saturday | 27/02/11 | 12:00 | UWIC Archers | League | Away | 85 – 74 (W) | |
| Saturday | 12/03/11 | 13:15 | Cirencester Jets | League | Home | 85 – 59 (W) | |
| Saturday | 13/03/11 | 14:00 | Cirencester Jets | League | Away | 79 – 59 (W) | |
| Saturday | 26/03/11 | 13:15 | Mole Valley Pheonix | Play-offs | Home | 97 – 79 (W) | |
| Saturday | 02/04/11 | 13:15 | Westminster Warriors | Play-offs | Home | 74 – 61 (W) | |
| Saturday | 09/04/11 | 16:30 | Manchester Magic | Play-offs | Away | 61 – 74 (L) | |
League Table
---
| Team | Wins | Losses | % | For | Against | Difference | Points |
| --- | --- | --- | --- | --- | --- | --- | --- |
| Taunton Tigers | 11 | 1 | .917 | 850 | 539 | 311 | 33 |
| Plymouth Marjon | 8 | 4 | .667 | 773 | 650 | 123 | 28 |
| ABC Gwent | 7 | 5 | .583 | 878 | 828 | 50 | 26 |
| UWIC Archers | 7 | 5 | .583 | 911 | 801 | 110 | 26 |
| Cirencester Jets | 6 | 6 | .500 | 913 | 772 | 141 | 24 |
| Dorset Storm | 3 | 9 | .250 | 674 | 937 | -263 | 18 |
| Gloucester Blazers | 0 | 12 | .000 | 369 | 841 | -472 | 9 |