Taunton Tigers Womens Team 2009/10
England Basketball National League Division Two Midlands/Southwest
---
Following the 2009/10 season the club made the decision not enter a Women's team into National League; This was based on not having available, enough players to regularly field a squad. Therefore at present there is no senior Tigers Women's team in the club. There is however an Under 18 Women's development team for the 2010/11 season and it is hoped that this will pave the way for a Women's team at some stage in the future.
The 2009/10 season was the fourth successive season for the Taunton Tigers Women's team playing in National League Division Two Midlands/South West Conference. They finished with a total record of 11 wins and 7 losses; a league record of 10 wins and 4 losses; reached the second round of the National Cup; finished 2nd in their Division and qualified for the play–offs but were knocked out in the first round of by Manchester Mystics. A very successful season for the team who built momentum as the season progressed, winning their last 7 consecutive league games before their play–off defeat.
The full list of the teams results from this season can be seen below in the Schedule/Results table which includes all match reports. View the team Roster, including player photos and the final League Table which is shown at the bottom of the page. View team pages from previous and following seasons by using the navigation at the bottom ↓ of the page.
Team Photo
---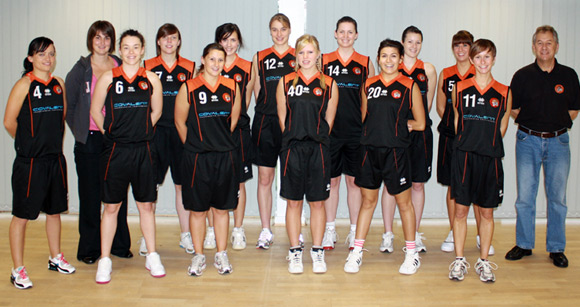 Roster
---
Schedule/Results
---
| Day | Date | Time | Opposition | Competition | Venue | Result | Report |
| --- | --- | --- | --- | --- | --- | --- | --- |
| Saturday | 03/10/09 | 15:45 | Bristol Storm | Trophy | Home | 36 – 47 (L) | Report |
| Saturday | 10/10/09 | 12:00 | Plymouth Marjon | National Cup | Away | 20 – 0 (W) | |
| Sunday | 18/10/09 | 16:00 | Solent Suns | League | Away | 53 – 51 (W) | Report |
| Saturday | 24/10/09 | 10:30 | UWIC Archers II | League | Home | 47 – 54 (L) | Report |
| Saturday | 31/10/09 | 12:00 | UWIC Archers | National Cup (Round 2) | Home | 22 – 65 (L) | Report |
| Saturday | 07/11/09 | 14:00 | City of Birmingham Force | League | Away | 46 – 49 (L) | Report |
| Saturday | 14/11/09 | 14:45 | Bristol Academy Flyers | League | Home | 40 – 50 (L) | Report |
| Saturday | 21/11/09 | 14:45 | Bristol Storm | League | Home | 53 – 46 (W) | Report |
| Sunday | 29/11/09 | 12:00 | Guernsey | League | Away | 48 – 46 (W) | Report |
| Saturday | 16/01/10 | 15:45 | Solent Suns | League | Home | 34 – 44 (L) | |
| Saturday | 23/01/10 | 15:45 | City of Birmingham Force | League | Home | 44 – 40 (W) | Report |
| Saturday | 06/02/10 | 16:00 | Bristol Academy Flyers | League | Away | 48 – 31 (W) | Report |
| Saturday | 20/02/10 | 17:00 | Bristol Storm | League | Away | 53 – 51 (W) | Report |
| Saturday | 27/02/10 | 14:00 | Plymouth Marjon | League | Home | 60 – 41 (W) | Report |
| Thursday | 04/03/10 | 20:00 | Plymouth Marjon | League | Away | 85 – 20 (W) | |
| Saturday | 06/03/10 | 15:45 | Guernsey | League | Home | 56 – 42 (W) | Report |
| Thursday | 11/03/10 | 13:00 | UWIC Archers II | League | Away | 55 – 53 (W) | Report |
| Saturday | 21/03/10 | 14:00 | Manchester Mystics | Play–offs | Away | 28 – 71 (L) | Report |
League Table
---
| Team | Wins | Losses | % | For | Against | Difference | Points |
| --- | --- | --- | --- | --- | --- | --- | --- |
| Solent Suns | 11 | 3 | .786 | 994 | 619 | 375 | 22 |
| Taunton Tigers | 10 | 4 | .714 | 722 | 618 | 104 | 20 |
| Bristol Storm | 10 | 4 | .714 | 886 | 700 | 186 | 20 |
| UWIC Archers II | 10 | 4 | .714 | 827 | 731 | 96 | 20 |
| City of Birmingham Force | 7 | 7 | .500 | 755 | 717 | 38 | 14 |
| Guernsey | 5 | 9 | .357 | 637 | 742 | −105 | 10 |
| Bristol Academy Flyers | 3 | 11 | .214 | 708 | 873 | −165 | 6 |
| Plymouth Marjon | 0 | 14 | .000 | 485 | 1014 | −529 | 0 |