Taunton Tigers Mens Team 2009/10
England Basketball National League Division 1
---
The Taunton Tigers Mens team finished the 2009/10 Season with a total record of 17 wins and 14 losses and a league record of 12 wins and 10 losses, finishing above .500 in both respects. They came 8th in their Division, tied with London Met and Reading Rockets with the same number of wins and losses but finishing below them due to head–to–head results. In the National Trophy competition they came second in their pool but lost to Reading Rockets in the Quarter Final. The team also progressed to the third round of the Cup before losing to Bristol Academy Flyers by just 1 point.
The 2009/10 campaign was the most successful so far for the team and a vast improvement on the previous two years. The team finished with its best result ever in what proved to be an extremely competitive league. Finishing 8th qualified the team for the Play–offs but they were eliminated in the first round by League Winners Derby Trailblazers. Manchester Magic went on to win the play–offs — a team the Taunton Tigers defeated in both League encounters. Coach Tom Kambouris was named by England Basketball as runner-up Coach of the Year for Division 1 2009/10.
The full list of the team's results from this season can be seen below in the Schedule/Results table which includes all match reports and game statistics. View the team Roster, including player photos and the final League Table which is shown at the bottom of the page. You can view photos of the team in action from this season on the Photos Section of the website or view team pages from previous and following seasons by using the navigation at the bottom ↓ of the page.
Team Photo
---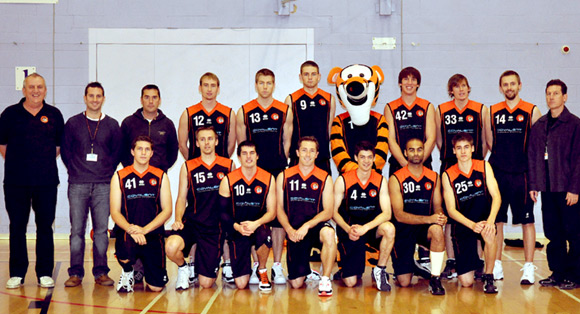 Roster
---
Schedule/Results
---
League Table
---
| Team | Wins | Losses | % | For | Against | Difference | Points |
| --- | --- | --- | --- | --- | --- | --- | --- |
| Derby Trailblazers | 17 | 5 | .773 | 1875 | 1593 | 282 | 34 |
| Manchester Magic | 16 | 6 | .727 | 1814 | 1575 | 239 | 32 |
| Leeds Carnegie | 16 | 6 | .727 | 1848 | 1681 | 167 | 32 |
| Bristol Academy Flyers | 16 | 6 | .727 | 1750 | 1682 | 68 | 32 |
| Leicester Warriors | 13 | 9 | .591 | 1872 | 1752 | 120 | 26 |
| London Met | 12 | 10 | .545 | 1855 | 1725 | 130 | 24 |
| Reading Rockets | 12 | 10 | .545 | 1730 | 1628 | 102 | 24 |
| Taunton Tigers | 12 | 10 | .545 | 1759 | 1707 | 52 | 24 |
| London Leopards | 6 | 16 | .273 | 1725 | 1862 | −137 | 12 |
| Coventry Crusaders | 5 | 17 | .227 | 1734 | 1999 | −265 | 10 |
| Tees Valley Mohawks | 4 | 18 | .182 | 1710 | 2076 | −366 | 8 |
| Sheffield Arrows | 3 | 19 | .136 | 1666 | 2058 | −392 | 6 |